The Genealogy Spot Home
DNA Genealogy - Wow!
Jump Start Your Genealogy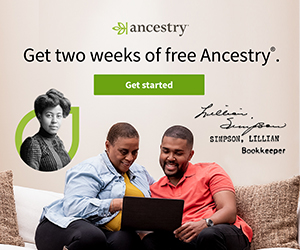 Genealogy Treasures
Death Finds a Way: A Janie Riley Mystery by Lorine McGinnis Schulze

Janie Riley is an avid genealogist with a habit of stumbling on to dead bodies. She and her husband head to Salt Lake City Utah to research Janie's elusive 4th great-grandmother. But her search into the past leads her to a dark secret. Can she solve the mysteries of the past and the present before disaster strikes? Available now on Amazon.com and Amazon.ca


* JOIN the FREE Olive Tree Genealogy Newsletter. Be the first to know of genealogy events and freebies. Find out when new genealogy databases are put online. Get tips for finding your elusive brick-wall ancestor.
Family Bibles
Family Bibles Have Great Free Genealogy Info...

Census Records
Find Your Ancestors In The Census...
Vital Records
Find Genealogy of Your Ancestors in Birth, Marriage, Or Death Records...
Land Records
Find Genealogy of Your Ancestors in Land Records...
Family Bibles & Genealogy Records
Family Bibles on Family Bibles Blog
These family bibles are on my Family Bibles Blog Following is a list of Family Bibles I have uploaded. Just click on the link above and then look for the Family Bible of interest to you. Use the Blogger Search engine or go to the Archives by using the date of publication shown with each Family Bible

Howel Family Bible published online on 3/30/07

Hailey Family Bible, Texas published online on 3/20/07

Willard Thomas - Julia Fox Family Bible 1897 Tenne... Family Bible published online on 3/17/07

Parker Green Family Bible 1820 published online on 3/15/07

Seeber - Schnerrin Family Bible, New York 1764 published online on 3/13/07

DRENAN FAMILY BIBLE Bible, New Hampshire, Obituary, Vermont published online on 3/12/07

Alexander Boomhauer Family Photo Album Iowa, New York, Wisconsin published online on 3/11/07

Family Bible SENSEMAN, GLEIRN in Pennsylvania Pennsylvania published online on 9/22/06

Senseman Family Bible Pennsylvania published online on 8/5/06

Update! Fleming Hardy Bible of Peel County Ontario... Canada, Ontario published online on 6/11/06

HAILEY, YATES Family Bible and Photos, Texas - Ida... Idaho, Texas published online on 6/11/06

ALBRIGHT - COBB Family Bible, Ohio Ohio published online on 5/21/06

Robert S. Pearson Family Bible 1881 Canada, Ontario published online on 5/17/06

Eggleston Family Bible Connecticut published online on 1/4/06

Family Bible: WHITE, VAN SCHAACK New York published online on 11/9/05

Family Bible: Tarlton, Batson in Maine Maine published online on 11/4/05

Family Bible: HARRIS & BUSH, Kentucky Kentucky published online on 10/28/05

Family Bible: Stewart, Blodgett, McNutt in New Yor... New York published online on 10/13/05

Family Bible: Dorn, Barrows New York 1846 New York published online on 10/4/05

Family Bible: Andrews Canada, Massachusetts, Ontario published online on 9/12/05

Family Bible POWELL, ALDRICH Massachusetts published online on 9/1/05

Vermont BIBLE with Hyde genealogy 1812 Vermont published online on 8/24/05

Odden Family Bible, New York New York published online on 8/10/05

HUSK, ODDEN, PETERSEN Bible New York published online on 8/4/05

Bible: John COBB, Massachusetts Massachusetts published online on 8/1/05

Family Bible: Robert & Lydia Gray 1700s Massachusetts, New Hampshire published online on 7/30/05

Carr Carlton Family Bible 1870 Massachusetts published online on 7/28/05

Warnke Lottcher Family Bible, Minnesota Minnesota published online on 7/27/05

NESTER Family Bible, Berks Co. Pennsylvania Pennsylvania published online on 7/24/05

RICHARDSON Family Bible (RICHARDSON, LIE, SHELLEY,... New Hampshire published online on 7/23/05

Bible: Fleming - Hardy Genealogy Canada, Ontario published online on 7/17/05

Carll, Hicks, Stevens, Barker Family Bible 1776 Maine published online on 7/14/05

Cropsey Family Bible, New York City, 1838 New York published online on 7/13/05

Vass Family Bible, Hardwick Tp, Warren County, New... New Jersey published online on 7/12/05

Smith Family Family Bible 1816 Salem New York New York published online on 7/11/05

SHELLEY Family Bible (SHELLEY, RICHARDSON, HEWETT,... New Hampshire published online on 7/10/05

Greaves Family Bible, Philadelphia, Pennsylvania Pennsylvania published online on 7/9/05

FARNUM family Bible (FARNUM, HUTCHINSON, KETCHUM) Vermont published online on 6/5/05

HUNTINGTON-SPEAR Family Bible (HUNTINGTON, SPEAR, ... Vermont published online on 6/3/05

KNIGHT/HUNTINGTON family Bible Vermont published online on 6/2/05

Family Bibles LACY, MICHIE, McNEILL Mississippi, North Carolina, Tennessee published online on 6/1/05

Haynes E. BAKER Family Bible (BAKER, ADAMS, HAYNES... New York published online on 6/1/05

CARPENTER Family Bible (CARPENTER, GROVER, GRAVES,... Connecticut, New York published online on 5/31/05

MASTIN Family Bible (MASTIN,PEASLEY, NEUZEN) published online on 5/30/05

PUTNEY-WAITE Family Bible (PUTNEY, WAITE, KALLERMA... Massachusetts published online on 5/28/05

WAITE-PERRY Family Bible (PERRY, WAITE, WHITCOMB) Massachusetts published online on 5/27/05

1800'S DAVISON FAMILY BIBLE INDIANA COUNTY PENNSYL... Pennsylvania published online on 4/1/05

FLECK, WILDERSON 1856 Franklin Co. PA Pennsylvania published online on 1/20/05

WILDER Bible 1840s, probably New England New Hampshire published online on 12/29/04

SHAW Bible 1831-1951 Minnesota, New York, Wisconsin published online on 12/29/04

SMITH Bible 1874 Pennsylvania published online on 12/29/04

HALLADAY Bible 1840s Illinois, New York, Vermont published online on 12/29/04

1850 Bible McClure Brady Duncan Families published online on 12/29/04

CHAPIN SCOTT Bible 1825 Massachusetts published online on 12/29/04

1848 Bible Pennsylvania MAUGER BAKER Families Pennsylvania published online on 12/29/04

1848 Bible Hyndman & Walker Families Pennsylvania published online on 12/29/04

Vermont BIBLE with Hyde family genealogy 1812 Vermont published online on 12/29/04

FAMILY BIBLE: Brooks - Gray, New York & Massachuse... Massachusetts, New York published online on 11/30/04

BIBLE: Thompson & Brown 1826 Maine, Massachusetts published online on 11/26/04

FAMILY BIBLE: Smith - Stringer, Pennsylvania Pennsylvania published online on 11/26/04

FAMILY BIBLE: Plum 1808, Ohio Ohio published online on 11/25/04

FAMILY BIBLE: Hoffman 1712 Germany, Pennsylvania published online on 11/24/04

BIBLE: Bearry - Cook 1842 published online on 11/24/04

BIBLE: Read - Swisher 1838 published online on 11/24/04

BIBLE: Lewis - Moore 1900 Kentucky Kentucky published online on 11/24/04

BIBLE: Maris - Millis 1826 published online on 11/24/04

1818 Family Bible Ephraim Billings of New Bedford Massachusetts published online on 11/24/04

1797 Family Bible Daniel Whitcombe & Billings Fami... Massachusetts published online on 11/24/04

BIBLE: Cawley - Koch Family Genealogy 1851 published online on 11/24/04

BIBLE: Deacon Family New York New York published online on 11/24/04

BIBLE: Brontano - Wilson Pennsyvania, N. Jersey 18... New Jersey, Pennsylvania published online on 11/24/04

BIBLE: Rutter & Supernacht, Missouri & Ohio Missouri, Ohio published online on 11/23/04

BIBLE: Townsend Family, Ohio 1863 Ohio published online on 11/21/04

FAMILY BIBLE: Susan Sawyer, Vermont Vermont published online on 11/21/04

Markham, Boardman & Quackenbush Family Bible New York published online on 11/20/04

Campbell Family Bible, Ohio Ohio published online on 11/20/04

MORGAN HUMASON ROOTS Family Bible, Connecticut Connecticut published online on 11/19/04

MILLER & WEAVER Family Bible, Pennsylvania Pennsylvania published online on 11/19/04

MAYO Family Bible, Tennessee Tennessee published online on 11/19/04

LEEKE & PEROGOY Family Bible 1827, Maryland Maryland published online on 11/19/04

LANG & SCOTT Family Bible, England, New Hampshire ... published online on 11/19/04

JENKINS Family Bible, Virginia & Ohio Ohio, Virginia published online on 11/19/04

INGRAM & DYSON Family Bible, North Carolina North Carolina published online on 11/19/04

FRANCE & ESTES Family Bible, Missouri & Oregon Missouri, Oregon published online on 11/19/04

BAKER Family Bible, Massachusetts Massachusetts published online on 11/19/04

CHRISTMAN Family Bible, New York New York published online on 11/19/04

Family Bible Everson and Talley Family of Marcus H... Delaware, Pennsylvania published online on 11/9/04

BOWEN Family Bible New York New York published online on 10/19/04

BLARE Family Bible, Indiana Indiana published online on 10/19/04

BAKER-NEWMAN Family Bible Maine, Massachusetts published online on 10/19/04

1845 BERRESFORD Family Bible England, New York, Ohio, Ontario published online on 10/19/04

VANDERMARK & KIVLER Family Bible, Indiana Indiana published online on 9/19/04

TALLMAN & MARSH Family Bible, Massachusetts & New ... published online on 9/19/04

SMITH & BASSETT Family Bible, Indiana Indiana published online on 9/19/04

Engelbrecht & Ramsburg Family Bible, Maryland Maryland published online on 9/19/04

MORSE Family Bible, Massachusetts Massachusetts published online on 8/19/04

LEDDEN & TURNER Family Bible, New Jersey New Jersey published online on 8/19/04

KIMBALL & HAZEN Family Bible Maine, Massachusetts published online on 7/19/04

CONKLIN Family Bible, Ohio Ohio published online on 7/19/04

COLE Family Bible, Ohio & New York New York, Ohio published online on 7/19/04

BURCH-HUESTED Family Bible, New York New York published online on 7/19/04

HAGY Family Bible, Virginia Virginia published online on 6/19/04

GATES & MARSHALL Family Bible Canada, Nova Scotia, Ontario published online on 6/19/04

FAIRCHILD & BROWN Family Bible, New York New York published online on 6/19/04

CULLEN Family Bible, New York New York published online on 6/19/04

Caldwell & Dugan Family Bible 1831, Missouri Missouri published online on 6/19/04

JOHNSON Family Bible, Ohio Ohio published online on 5/20/04

FENWICK & RINKER Family Bible Louisiana, South Carolina published online on 5/19/04

BREWSTER Family Bible published online on 5/19/04

Top Genealogy Blogs published online on 5/12/04

BOWMAN & HORS Family Bible, Vermont & New York New York, Vermont published online on 4/29/04

Family Bible of Phillip J. Hummel & Emma Degen of ... California, Minnesota published online on 4/20/04

Levengood & Binder Family Bible, Pennsylvania Pennsylvania published online on 4/16/04

Family Bible of Lewis, Haynes, Haines, Hendershott... Pennsylvania, Texas published online on 2/20/04

Family Bible of Musbach, Hottel ,Sauter, Trinby Fa... Pennsylvania published online on 2/20/04

Family Bible of Funk, Ritchie and Lynch Families Illinois, Missouri, Virginia published online on 2/20/04

FANS & FAUNCE Family Bible published online on 1/20/04

DAVIDSON & EDWARDS Family Bible, Virginia & Kentuc... Kentucky, Virginia published online on 1/20/04

FORD - LYMAN Family Bible, Ohio Ohio published online on 1/15/04

Search Ancestry or Check the Quick Start USA- Census Comparison Charts or Quick Start Canada- Census Comparison Charts for those in a hurry to find an ancestor
Share Your Family Genealogy Records
To submit a transcription or a photo of a genealogy document such as a coffin plate, funeral card or family bible please email ancestorsatrestATgmail.com (Replace AT with @ in the email address)